Don't Waste Money on a New BBQ. Protect your Grillmaster Status and let B&C Make Your Current Grill as Good as New!

Barbecue Cleaning and Repair — Fast Turnaround
Summer time is barbecue time. But have you ever had a summer BBQ with your friends, and the chicken, beef, and pork that should take 20 minutes to cook takes an hour instead? Meanwhile, the side dishes are all wilting in the sun and everyone stands there pretending to respect your grilling skills while their stomachs growl. And deep down you know it – your barbecue is embarrassing you.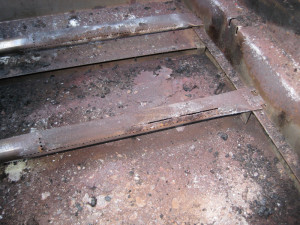 Is this the reason your grill takes forever to cook?
You look inside and see the problem – your burners are barely putting out any flame, and you've got the dial on the highest setting.
The truth is, gas barbecues wear out over time. But you might not need to spend $900 or more buying a brand new one. With a little attention to the right places, your old BBQ can be as good as new in just a couple hours.
Most of the time, when a gas barbecue's performance drops, it's caused by one of several common problems. Bob follows a standard procedure, and as he runs through his list he will identify the problem.
More than likely, he will fix it on the spot. If a new part needs to be ordered, we'll order it and then install it once it arrives.
Note: Some older barbecue models may be obsolete with parts no longer available. Also, lower-priced models are often not worth enough to order new parts, and replacement is the better option.
BBQ Repair and Service Checklist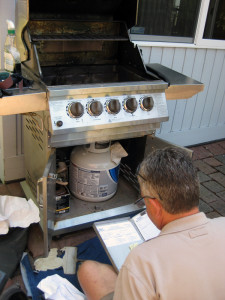 Here's the B&C BBQ repair service checklist that will get your grill firing on all cylinders again:
Clean the burners
Check burner condition and operation
Assess the wiring and switch functionality
Measure gas flow
With a few simple diagnostic tests and a thorough cleaning, your gas grill will be back in shape. If it needs a new part, it will take a bit longer.
BBQ Repair Service Charges – Simple and Consistent
B&C charges a one-time flat rate for all gas barbecues up to two burners or up to 36 inches.
There is a small extra charge for larger units with each additional burner or griddle.
There are no hidden fees or surcharges. The only other possible cost comes from having to order new parts. But with higher-end barbecues, that will still be far less than buying a whole new unit. For lower-priced BBQs this is often not the case, and if the repair costs are too high, it's more cost-effective to just buy a new one.
If you want to retain your "grillmaster" credentials, then extend the life of your barbecue.
Use B&C Comfort's BBQ Repair and Cleaning Service.
Supported Manufacturers
We sell and install these manufacturers, but we repair all brands.
Bonded & Insured
B & C Comfort, LLC is bonded, licensed, insured and also a better practices business.
Regions Serviced
We serve these areas within King County and Snohomish County
King County postal codes
Baring - 98224 (Additional trip charges apply)
Bellevue - 98004, 98005, 98006, 98007, 98008, 98009, 98015
Bothell - 98011, 98041
Carnation - 98014
Duvall - 98019
Fall City - 98024
Issaquah - 98027, 98029
Kenmore - 98098
Kirkland - 98033, 98034
Medina - 98039
Mercer Island - 98040 (Additional trip charges apply)
North Bend - 98045
Preston - 98050
Redmond - 98052, 98053
Sammamish - 98074, 98075
Shoreline - 98133, 98155, 98177 (Additional trip charges apply)
Skykomish - 98288 (Additional trip charges apply)
Snoqualmie - 98065
Woodinville - 98072, 98077
Snohomish County postal codes
Bothell - 98012, 98021
Edmonds - 98020, 98026 (Additional trip charges apply)
Everett - 98201, 98203, 98204, 98205, 98207, 98208 (Additional trip charges apply)
Gold Bar - 98251
Granite Falls - 98252
Index - 98256 (Additional trip charges apply)
Lake Stevens - 98258
Lynnwood - 98036, 98037, 98046, 98087 (Additional trip charges apply)
Marysville - 98270
Mill Creek - 98012, 98082
Monroe - 98272
Mountlake Terrace - 98043 (Additional trip charges apply)
Mukilteo - 98275 (Additional trip charges apply)
Snohomish - 98290, 98291, 98296
Start Up - 98293
Sultan - 98294
If you are unsure if your location is within our service area, please contact us to find out!