Gas Fireplace Specialists — Service, Repair, Installation

Make Sure Your Fireplace is Ready Before Winter Leaves You In the Cold

Bad Smells, Clicking Sounds, Remotes that Don't Work, Pilots that Won't Light…
We'll Help You and Your Fireplace Get Along Again!
(Indoor and Outdoor – We Do
Gas

Fireplace Service and Repair in Edmonds, Redmond, Monroe, Kirkland, Lynnwood)

Lots of things can make a fireplace not light. You can fix a few yourself. Check out our quick troubleshooting guide.

Go down this page and see the detailed service checklist we use to find and fix the problem.

The best way to avoid big problems is annual checkups.

See below for our gas fireplace service checklist. Then schedule your appointment.

Make an informed decision. Know the questions and get the answers before buying anything.

Want to add on components like fans and remotes? See your accessory options here.

Important: If you need new parts for your fireplace and want us to install them, do not order them from a third party. If you do, we cannot install them since we can't give our service warranty. Order parts through us and receive our free service warranty.
The B&C Comfort Gas Fireplace Service Checklist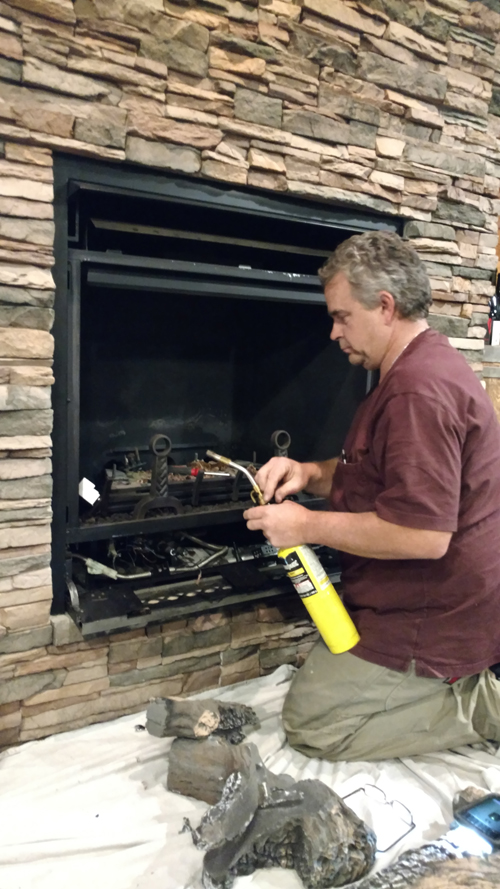 Whether it's annual maintenance or diagnosing a malfunction, Bob will clean, test and check all the key components, from the pilot light to the fittings to the thermocouple.
If you are doing a recommended annual maintenance, after completing this process Bob will let you know of any potential problems he may have found.
If your fireplace needs repair, Bob will often find the problem as he follows this service checklist.
Within 45 to 60 minutes, Bob will do all of the following as part of a full-service inspection:
Check all electrical connections for proper connectivity
Confirm the voltage meets the standards for your unit
Evaluate the pilot assembly, pilot orifice and/or standing pilots for proper flow
Test the thermocouple / thermopile for proper operation
Check all fittings for tightness, corrosion and any defects or faults
Test power source functionality
Clean and inspect burner for wear and rust
Measure carbon dioxide emissions
Clean logs and arrange them for proper operation
Clean glass and check seals for proper amount of gasket for safe operation
Touch up paint if needed
We charge the same flat rate for this service checklist whether you call for repair or for maintenance. Sometimes, repair issues get resolved after a thorough cleaning, service and adjustments.
What If More Service and Repair is Needed?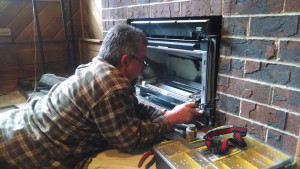 If more repair work or new parts are necessary, you'll be given pricing options for the part and the installation. We carry many common parts and try to complete the repairs in one visit.
If we have to order new parts from the manufacturer, you'll receive a quote and an estimated time of arrival, and we will make a second appointment to install it. You will not be charged twice for our service fee.
We Repair All Brands of Gas Fireplaces, Indoor and Outdoor Firepits
We do not work on ventless or electric fireplaces. We work only with gas fireplaces, and that includes natural gas and propane.
Parts and service can include log sets, direct vent (DV) and B-vent inserts, shutoff valves, standalone and wall equipment.
If you want to add on specific components to your existing or new fireplace, such as fans and remote controls, see our accessory options here.
Supported Manufacturers
We sell and install these manufacturers, but we repair all brands.
Bonded & Insured
B & C Comfort, LLC is bonded, licensed, insured and also a better practices business.
Regions Serviced
We serve these areas within King County and Snohomish County
King County postal codes
Baring - 98224 (Additional trip charges may apply)
Bellevue - 98004, 98005, 98006, 98007, 98008, 98009, 98015
Bothell - 98011, 98041
Carnation - 98014
Duvall - 98019
Fall City - 98024
Issaquah - 98027, 98029
Kenmore - 98098
Kirkland - 98033, 98034
Medina - 98039
Mercer Island - 98040 (Additional trip charges may apply)
North Bend - 98045
Preston - 98050
Redmond - 98052, 98053
Sammamish - 98074, 98075
Shoreline - 98133, 98155, 98177 (Additional trip charges may apply)
Skykomish - 98288 (Additional trip charges may apply)
Snoqualmie - 98065
Woodinville - 98072, 98077
Snohomish County postal codes
Bothell - 98012, 98021
Edmonds - 98020, 98026 (Additional trip charges may apply)
Everett - 98201, 98203, 98204, 98205, 98207, 98208 (Additional trip charges may apply)
Gold Bar - 98251
Index - 98256 (Additional trip charges may apply)
Lynnwood - 98036, 98037, 98046, 98087 (Additional trip charges may apply)
Mill Creek - 98012, 98082
Monroe - 98272
Mountlake Terrace - 98043 (Additional trip charges may apply)
Mukilteo - 98275 (Additional trip charges may apply)
Snohomish - 98290, 98291, 98296
Start Up - 98293
Sultan - 98294
Not in our service area: Granite Falls, Lake Stevens, Marysville, Renton
If you are unsure if your location is within our service area, please contact us to find out!