Heating and air conditioning – HVAC service, repair, and installation

Happy Family, Happy Friends. Extend the life of your furnace, heat pump, and air conditioner

A home becomes very uncomfortable when HVAC systems break down or deteriorate. Just as often, a system may work fine but be very wasteful of energy, which increases the cost to you as well as the environment. B&C Comfort installs, repairs, and provides maintenance for HVAC components and systems.
Select the Type of Service You Need:
For Gas:
Furnaces – We install American Standard
Heat pumps and ACs – We install those and HEIL
For electric:
Air handlers – We install American Standard
No ducts? We install Daikin and Mitsubishi ductless ACs and heat pumps
Prevent big problems later with wise action now. We perform regular HVAC service for all brands
Call or email today.
425.402.4456
info@bandccomfort.com
Why we don't quote over the phone:
The specifics of the layout and access in every home are unique, and can have a great impact on the difficulty of the work. We need to see it before we can give you the accurate quote you need.
Our Warranty:
B&C provides a standard 2-year parts and labor warranty for all repair and installation work. However, we require you to purchase products through us and not a third party. We will not install systems, parts, or accessories purchased elsewhere since we cannot warranty the work.
Also, most furnace brands have their own 10-year parts warranties, conditional upon regular service.
Don't know what HVAC is or what system you need?
Here's a Super-Quick HVAC Tutorial:
HVAC stands for 'heating, ventilation, and air conditioning."
You have three possible HVAC systems you can setup to control your home's temperature:
Furnace – heating only
Furnace and AC – heating and cooling
Furnace and heat pump – heating and cooling, usually with better efficiency in NW climate
You can also do ductless systems with the same three combinations.
Do you have gas or electric heat?
An "air handler" is the same as a furnace, except a furnace uses gas, and an air handler uses electric. So every home must have a furnace or an air handler, at a minimum. Getting a heat pump or air conditioner is up to each homeowner.
Heat Pump or Air Conditioner? Compare the Pros and Cons
Energy efficiency
The SEER is a rating for the energy efficiency of air conditioners.
The HSPF does the same for heat pumps.
Learn what these home energy efficiency ratings mean and how to read them
See this PUD study to compare energy costs and savings for a variety of HVAC systems.
How do HVAC systems work?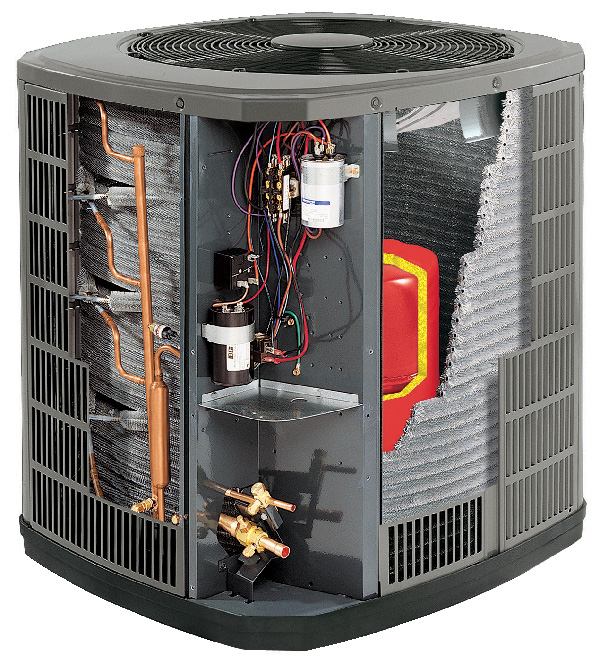 The basic process of a gas furnace has three steps:
Inducer fan starts turning
Gas valve opens and ignites
Air starts to flow, and gets warmed up by the heat from the burning gas
If it's a heat pump:
The air can flow both ways (in or out of the house), and be warmed up or cooled down, depending on the desired temperature inside and the conditions outside
If it's an air conditioner:
The air can only flow one way – warm air exits the house, cool air enters.
…And see how heat pumps compare to furnaces.
We also sell–
Air purifiers
Reduce the contaminants in your home's air and make it more breathable. This is especially helpful for people who have asthma or other respiratory illnesses.
See options for air purifiers you can get through B&C.
Humidifiers
Too much mold in your closets or windows? Mold is a major cause of sickness, and the risk increases the longer it sticks around. Plus it's gross.
By controlling the humidity in your home, you can reduce the prevalence of mold and reduce your chances of sickness.
Check out the humidifiers available through B&C.
Supported Manufacturers
We sell and install these manufacturers, but we repair all brands.
Bonded & Insured
B & C Comfort, LLC is bonded, licensed, insured and also a better practices business.
Regions Serviced
We serve these areas within King County and Snohomish County
King County postal codes
Baring - 98224 (Additional trip charges apply)
Bellevue - 98004, 98005, 98006, 98007, 98008, 98009, 98015
Bothell - 98011, 98041
Carnation - 98014
Duvall - 98019
Fall City - 98024
Issaquah - 98027, 98029
Kenmore - 98098
Kirkland - 98033, 98034
Medina - 98039
Mercer Island - 98040 (Additional trip charges apply)
North Bend - 98045
Preston - 98050
Redmond - 98052, 98053
Sammamish - 98074, 98075
Shoreline - 98133, 98155, 98177 (Additional trip charges apply)
Skykomish - 98288 (Additional trip charges apply)
Snoqualmie - 98065
Woodinville - 98072, 98077
Snohomish County postal codes
Bothell - 98012, 98021
Edmonds - 98020, 98026 (Additional trip charges apply)
Everett - 98201, 98203, 98204, 98205, 98207, 98208 (Additional trip charges apply)
Gold Bar - 98251
Granite Falls - 98252
Index - 98256 (Additional trip charges apply)
Lake Stevens - 98258
Lynnwood - 98036, 98037, 98046, 98087 (Additional trip charges apply)
Marysville - 98270
Mill Creek - 98012, 98082
Monroe - 98272
Mountlake Terrace - 98043 (Additional trip charges apply)
Mukilteo - 98275 (Additional trip charges apply)
Snohomish - 98290, 98291, 98296
Start Up - 98293
Sultan - 98294
If you are unsure if your location is within our service area, please contact us to find out!