Heating and Cooling Installation and Replacement Options
Looking to install a furnace, air conditioner, or heat pump?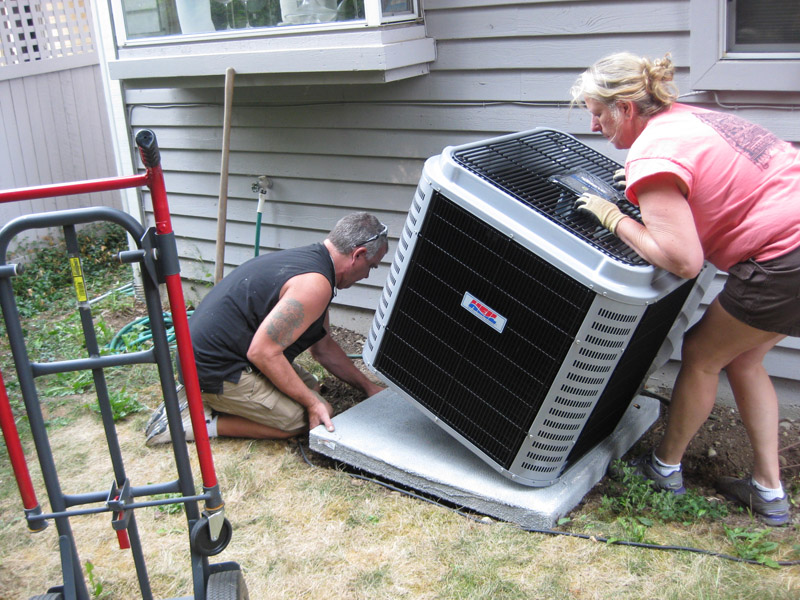 First, there are three questions you need to answer. If you're not sure about these answers, call us and we can help you figure out what you have, and decide on what you want.
Your 3 Questions:
Does your home use gas or electric?
Do you want a heat pump?
Do you want air conditioning?
Heating and cooling systems can work in three possible combinations.
Your 3 options for heating and cooling installation:
Have just a heater (furnace or air handler)
Have a heating system and a heat pump working together
Have a heating system and a cooling system working together
You cannot have just a heat pump. They only work in combination with a furnace.
Learn more about heat pumps, and how they differ from furnaces, in this interactive demonstration.
If your home uses gas…
Then you need a furnace for heat. If you also want to cool your home, then you'll choose either air conditioning or a heat pump.
We install American Standard furnaces. These are the highest quality furnaces on the market. We've seen – over and over again – that you'll save more money and have less trouble if you go with the best. When it comes to furnaces, this is the only brand that meets our rigorous standards of quality.
However, if you want a heat pump or air conditioning to go with the furnace, you can choose between American Standard and HEIL. Both brands are high quality, with HEIL being a bit more affordable.
If you have more questions about these brands, or want us to come out for a free consultation, call us today.
The consultation has to come before we can quote a price, because every home has a different layout, and accessing your heating and cooling system components can be anywhere from very difficult to very easy.
What about warranties?
Most furnace brands provide 10-year warranties on parts, though these do have strict maintenance requirements.
B&C Comfort gives you a 2-year parts and labor warranty for all heating and cooling installations. But to qualify for this warranty, you must buy your system through us.
If your home uses electric…
Then you need an air handler for heat. If you also want cooling, then your options are the same as a furnace – air conditioner or heat pump.
For electric heat, we install American Standard and HEIL air handlers. Both brands offer high quality and long-lasting products with fewer maintenance issues. HEIL is the more affordable of the two.
But wait! There's a follow-up question if your home has electric heat:
Do you have a ductless system?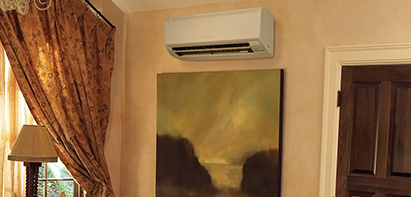 If your home doesn't have a duct system for moving air, then you cannot use American Standard or HEIL products.
We install two brands for ductless heating and cooling – Daikin and Mitsubishi. And these brands include air handlers, heat pumps, and air conditioners.
A ductless system gets installed on the wall in conjunction with an outdoor unit, as you see in the photo.
There are pros and cons to all these products.
Why might someone choose a heat pump over an air conditioner, or vice versa?
Compare the differences between heat pumps and AC
If you have further questions about your heating and cooling installation options, send them over to us and we'll get back to you, or call us.
Supported Manufacturers
We sell and install these manufacturers, but we repair all brands.
Bonded & Insured
B & C Comfort, LLC is bonded, licensed, insured and also a better practices business.
Regions Serviced
We serve these areas within King County and Snohomish County
King County postal codes
Baring - 98224 (Additional trip charges may apply)
Bellevue - 98004, 98005, 98006, 98007, 98008, 98009, 98015
Bothell - 98011, 98041
Carnation - 98014
Duvall - 98019
Fall City - 98024
Issaquah - 98027, 98029
Kenmore - 98098
Kirkland - 98033, 98034
Medina - 98039
Mercer Island - 98040 (Additional trip charges may apply)
North Bend - 98045
Preston - 98050
Redmond - 98052, 98053
Sammamish - 98074, 98075
Shoreline - 98133, 98155, 98177 (Additional trip charges may apply)
Skykomish - 98288 (Additional trip charges may apply)
Snoqualmie - 98065
Woodinville - 98072, 98077
Snohomish County postal codes
Bothell - 98012, 98021
Edmonds - 98020, 98026 (Additional trip charges may apply)
Everett - 98201, 98203, 98204, 98205, 98207, 98208 (Additional trip charges may apply)
Gold Bar - 98251
Index - 98256 (Additional trip charges may apply)
Lynnwood - 98036, 98037, 98046, 98087 (Additional trip charges may apply)
Mill Creek - 98012, 98082
Monroe - 98272
Mountlake Terrace - 98043 (Additional trip charges may apply)
Mukilteo - 98275 (Additional trip charges may apply)
Snohomish - 98290, 98291, 98296
Start Up - 98293
Sultan - 98294
Not in our service area: Granite Falls, Lake Stevens, Marysville, Renton
If you are unsure if your location is within our service area, please contact us to find out!